Attendance
---
Erik
Fletcher
Dante
Hunter
Mark
Evan
Chris
Journal
---
Tasks
Make a question sheet for scouting
Design claw
Install robot C
Reflections
We re-installed RobotC on the new computer and put on a permanent license.  We also gave the field computer a RobotC permanent license as well.  We also re-designed the claw and the way the claw mounts to the robot.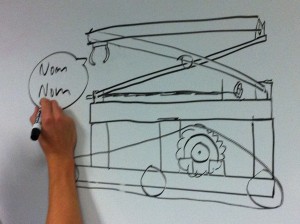 We discussed how we will scout at competitions.  Here are some questions that we came up with to ask:
1. Would you say your steering skills are precise?
2. Do you plan to lift another robot in the end game?
3. What does your autonomous do?
4. How heavy is your robot?
5. Do you have sufficient wheelbase?
6. Does your robot lift rings?