Attendance
---
Mark
Evan
Hunter
Chris
Dante
Erik
Fletcher
Journal
---
Tasks
Reflect and perfect the changes done over the break

These include enlarging the drive shaft, gearing down the motors, using a servo to move the hand left and right, and installing elastic bands
Reflections
Only a few adjustments were made over the break.  We took off the driving space on the top of the robot because we decided not to lift robots at this competition, and instead just stick to rings.  We geared down the motors that power the scissor lift and we made the drive shaft bigger.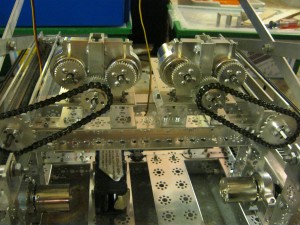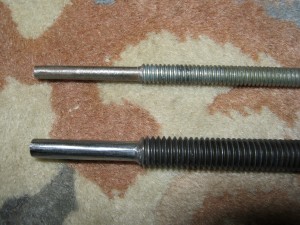 In addition we replaced the single motor for each side with two for each side to increase the overall power of the lift.  We added more tension to the lift so it could go up easier.  We made the hand able to pick up 2 rings using metal pieces for it instead of Legos.  We employed surgical tubing to replace the string that moves the hand left and right.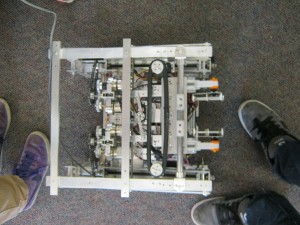 We tested the robot today and it was able to drive and the scissor lift actually worked for the first time!  It went up to over 50 inches which is high enough to put rings on the top peg with our hand that can also swivel up and down.  Although excited that it could go a considerable height, it was too slow to be really effective in getting us a lot of points because we geared down the motors.  We resolved to fix this at the next meeting.