Attendance
---
Fletcher
Chris
Dante
Erik
Hunter
Mark
Evan
Justin
Journal
---
Tasks
Mount color sensor

Work on color sensor
Reflections
Erik and Fletcher mounted the new color sensor on the robot (loaned to us by Hunter's friend Emory).
Evan removed Erik's NXT mount because it was in an inconvenient place on the robot.
Fletcher worked on coding the TeleOp program, and Hunter did experiments with the color sensor which we may want to use on the field to follow the lines on the ground.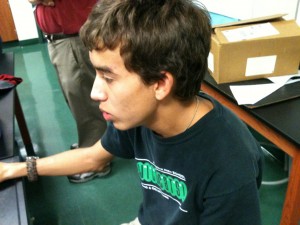 We talked with Justin about robotics because he is considering joining our team so we talked about what we do in general.