The game manual (part 1) of the 2013–2014 season was released on 1 July 2013 here.  It details what the non-game-specific rules for the coming season are going to be (eg. what size sizing cube your robot must fit in).
We assume you know all the rules from last year, so we've compiled the differences from last year to this year.
The tournaments will, with the exception for a couple of things will be the same.  There will be new super-regional tournaments that teams must qualify for in order to qualify for worlds.  You qualify for super-regionals, and from there qualify for worlds.  There also is going to be a new Control Award, awarded for outstanding use of sensors and software.
The engineering notebook has had a suggestion of a summary page at the start; a page talking about how you inspire, design, or control (connect, motivate, think, innovate, promote, compass) in a one-page statement.
In the past, the power switch on the robot had to be easy-to-see and accessible.  Now this year, it must be labeled with a sticker, seen below.  The game manual does not specify as to whether you make customize the sticker, but we have asked and are awaiting response.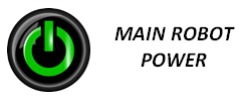 If your team invested in the new Lego Mindstorms EV3, you will not be allowed to use it for your robot.
In the section about what COTS (commercial off-the-shelf) parts allow, a whole host have been added, and we list them here:
#35 chain

Timing Belts of any size or pitch
Gears of any size or pitch, including non-circular gears
Sprockets of any size or pitch
Pulleys including sheaves, timing belt, etc.
Springs that are used in a safe manner
Fasteners (nuts, bolts, screws, washers, rivets, Velcro, etc.) of any size
Bearings of any type or material
PVC, CPVC, PEX pipe and fittings
Extruded T-slot aluminum construction material
Wheels of any sort that are less than 4″ in diameter
These COTS may be used in any quantity
They also added a couple of raw materials:
Adhesive-backed tape

Glue, cement, and adhesives
This year, unlike previous years, you can weld your robot together.  Brazing and soldering are also allowed.
Microprocessors, like Arduinos, will be allowed again this year, and will be allowed a little more liberally.  You may have one doing function on your robot if it is powered by the Tetrix SuperPro prototype board or the NXT prototype board.  They still will be allowed if they are only powering decorative LEDs.
This year, in addition to the servos we've been allowed, there also will be quarter-scale servos, but there are a lot of rules surrounding them.  On one servo controller, you may have only two of them, and if you have two on one controller, you may only have one standard-size servo on that controller.  If only one mini servo is on the controller, you can have up to four standard servos.
For wires that need to disconnect and reconnect frequently on your bot, you may use Anderson PowerPole or other similar crimp or quick connect style connectors.  You also may use power splitters in you circuits.
If you have decorative LEDs, they can be powered by an external battery, but if the LEDs are used as visual cues for drivers, then they must be powered by a prototype board.
The connectors on the TETRIX and MATRIX battery packs may be replaced or augmented with any compatible connector described in <R08.q> (about two thirds of the way down).
This year, having a camera on your robot for recording matches has been specifically allowed, provided the camera is for post-match entertainment and does not have wireless capabilities.
3D printed parts are allowed this year, but they must be designed by the team or a team member.
The new Control Award was mentioned above.  This is what FIRST™ wrote about the control award:
The Control Award celebrates a team that uses sensors and software to enhance the robot's functionality on the field. Rev 1 – July 1, 2013 28 © FIRST Tech Challenge
This award is given to the team that demonstrates innovative thinking in the control system to solve game challenges such as autonomous operation, enhancing mechanical systems with intelligent control, or using sensorsto achieve better results on the field. The control component should work consistently on the field. The team's Engineering Notebook should contain details about the implementation of the software, sensors, and mechanical control. Please check with your local Affiliate Partner to find out if this award will be offered in your region.

Guidelines for the Control Award:

Team demonstrates respect and Gracious Professionalism to all
Team must submit an Engineering Notebook with an Engineering Section
Control Components must be documented in the Engineering Notebook
Control Components must enhance the functionality of the robot on the field
Control Components must work reliably
Teams are encouraged to demonstrate control components to the Judges
Advanced software techniques and algorithms are encouraged
Prototyped sensors and custom hardware are encouraged
Note the part where it said, "Engineering Notebook with an Engineering Section."  You will need to have an engineering section in your notebook.  This section is also required for the PTC Design Award and the Rockwell Collins Innovate Award.
And on to my personal favorite (non-Inspire) award, the Promote Award.  This year, the prompt is, "Leadership is."
For most FTC teams, the Judges' Award has not changed, but for those of us in Los Angeles, you will recall that upon winning the award, your team will have registration in LA for the next season for free.
Of course the rules will be subject to change in the form of FTC updating the document and in forum posts, so check up on those to see any changes in the rules.